A huge congratulations to the winner of Plumbing World's first ever Young Plumber of the Year competition.  A fantastic bunch of finalists and an amazing inaugural competition final!
1st – Julian Parker
Lewis Plumbing Co Ltd, Rotorua (BOP/Central Plateau)
2nd – Hayden Findlay
Quix Auckland/Eco Plumbing Ltd (Northern)
3rd – Josh Ratten
Layne Watson Plumbing Ltd, Papanui (Canterbury/West Coast)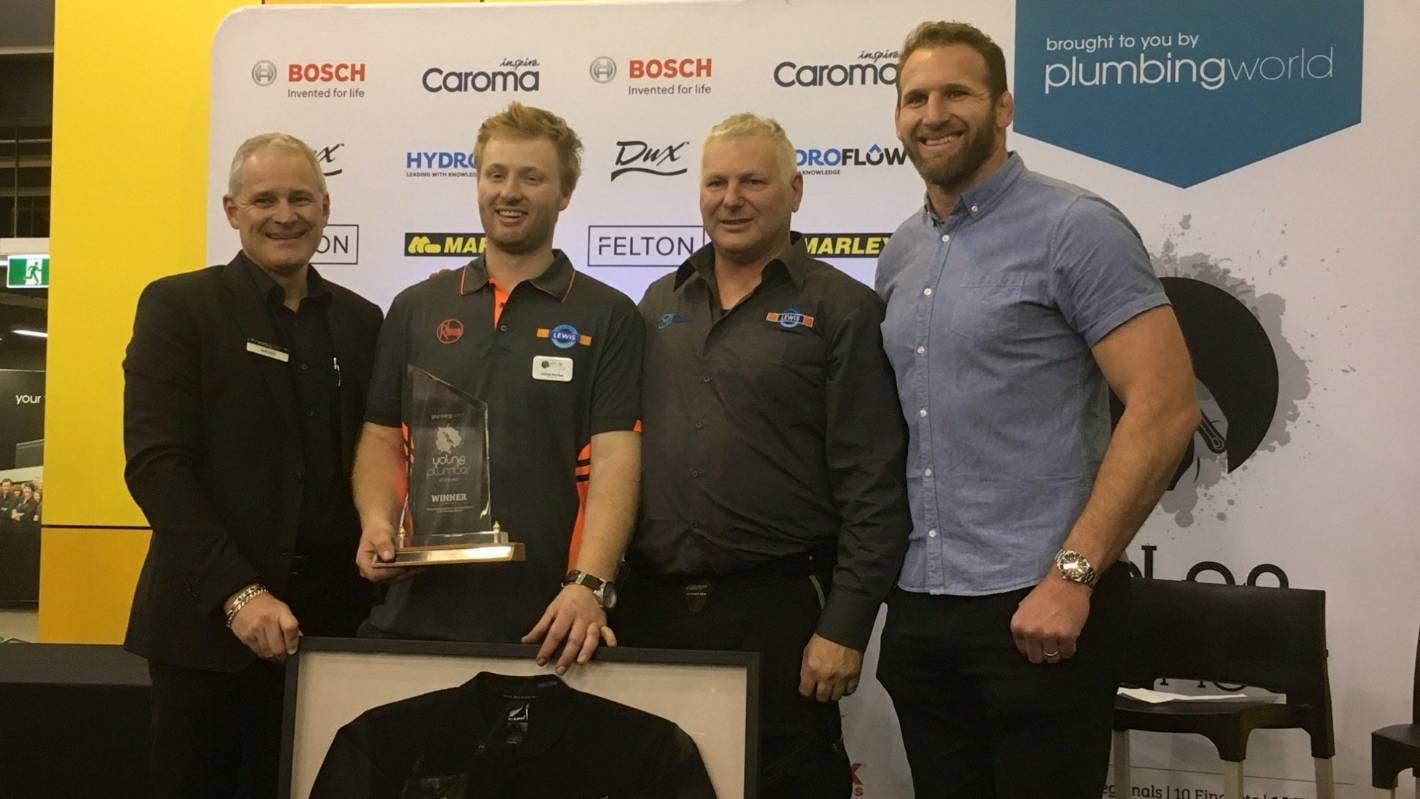 Julian Parker with Rob Kidd, GM of Plumbing World, Parker's boss John Lewis and All Black Kieran Read. Read Stuff article. 
Contestant
Aaron Partington (Wild Card)
Daniel Warren (Wild Card)
Company
Word of Mouth Plumbing & Gas Ltd
Steve Wolter Plumbing Ltd
Peter Jackson Plumbing Ltd
Hutt Gas & Plumbing Services Ltd
Taylormade Plumbing & Solar Ltd
Region
Achieving Goals
Julian is grateful to Plumbing World for organising the event and believes the competition furthers knowledge by testing your skills, learning how to use things you haven't used before, and for comparing how your skills stand alongside others in the industry. "I'd also like to thank the suppliers, sponsors and organisers for making the event possible."  "Julian's success has given our other young plumbers future goals they may not have realised they could achieve," says Jon Lewis of Master Plumbers member business, The Lewis Plumbing Company in Rotorua.
"It's important that the plumbing industry recognises our future young plumbers. I'd like to thank Andrew Lewis from Rotorua Plumbing World branch for his support in getting all of my young plumbers to the competitions."
Whilst part of the prize package is a luxury trip to Plumbing World's overseas convention in Fiji for Julian and his partner, Shannon, Julian says, "I would have done this purely for the experience. The whole time I really wanted to compete to meet people in the industry."
Julian travelled the world landing a role with Ke Kelit in Austria at their international head quarters. Read more here.
"It was awesome"
The first round of the competition and Regional events were held at local Plumbing World branches. Julian won first spot at his local Rotorua branch, with the company's two apprentices, Dave and Ben, gaining third and fourth. At the Regional event in Tauranga, he again secured first place after completing a theory exam followed by multiple practical assessments on new products, most of which competitors hadn't seen before.  Then came the Final, held at Wintec in Hamilton.
"Everything had to be done faster now.  There wasn't enough time to answer all the questions in the theory exam, so you did what you could as fast as you could! The three-hour practical exam was setting up a small unit (like a bathroom) with a hot water cylinder, drainage and fixtures. It was like having 100 customers watching over your shoulder as you work!"
But Julian wasn't phased. "It was awesome. The whole experience was amazing. I knew it would be tough, but it was a lot more competitive than I expected. And quite tricky. I took a lot away from it—you get to meet some good people and learn about the industry. Most entrants I've spoken to want to do it again."